Memorial Hospital Announces 2018 LCM Award Recipient
Category: News
Posted On:
Written By:

MHHCC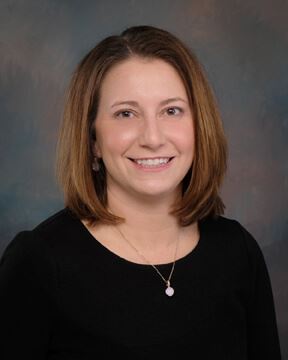 Ashley Erny was named the 2018 recipient of the Little Company of Mary Award at Memorial Hospital and Health Care Center. The LCM Award is given annually to an employee nominated by his or her co-workers and chosen from a group of finalists by the hospital's Mission Committee. Nominees for this award demonstrate Memorial Hospital's mission and core values through their daily work. 
Erny works in the Pharmacy department at Memorial Hospital. She has been described as an excellent example of true compassion and that it is her "norm" to go above and beyond. She is constantly looking at ways to improve practices, policies, and procedures to make things easier and more efficient for staff and patients. Erny always goes the extra mile to see what can be done to decrease costs for patients and the hospital.
Erny lives in Jasper with her husband, Chad, and two sons, Will and Sam. Her parents are Jeff and Kathy Harter.
Other nominees for the award included Beverly Blunk, Huntingburg Clinic; Steve Engleman, Environmental Services; Cathy Leistner, Health Information Management; and Connie Spinner, Lange-Fuhs Cancer Center.