Nurse Practitioner Jessica Wright Now at Country Health Center
Jasper, Ind. – Memorial Hospital and Health Care Center is pleased to announce the addition of Nurse Practitioner Jessica Wright to the staff of Country Health Center in Montgomery, Indiana. Nurse practitioners are advanced practice registered nurses who are educated and trained to provide health promotion and maintenance through the diagnosis and treatment of acute illness as well as chronic health conditions. Nurse practitioners conduct history and physical exams, and may order diagnostic tests and medical treatments, including prescribing medications.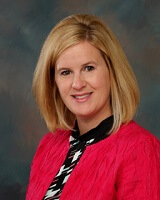 Wright received her bachelor of science in nursing and master of science in nursing degrees from Indiana Wesleyan University. She is certified as a Family Nurse Practitioner by The American Academy of Nurse Practitioners National Certification Board, Inc. She previously worked as a registered nurse at Memorial Hospital in the Emergency Department and House Supervision. Her past experience also included working as a registered nurse in outpatient dialysis and a trauma intensive care unit.
Wright is the president of the Beta Zeta Chapter of Kappa Kappa Kappa in Washington, and is a member of Redemption Christian Church in Loogootee. She resides in Washington with her husband, Jaret, and their four children.
Country Health Center is located at 5066 N. 900 East in Montgomery, Indiana. To schedule an appointment, please call 812-486-3396.